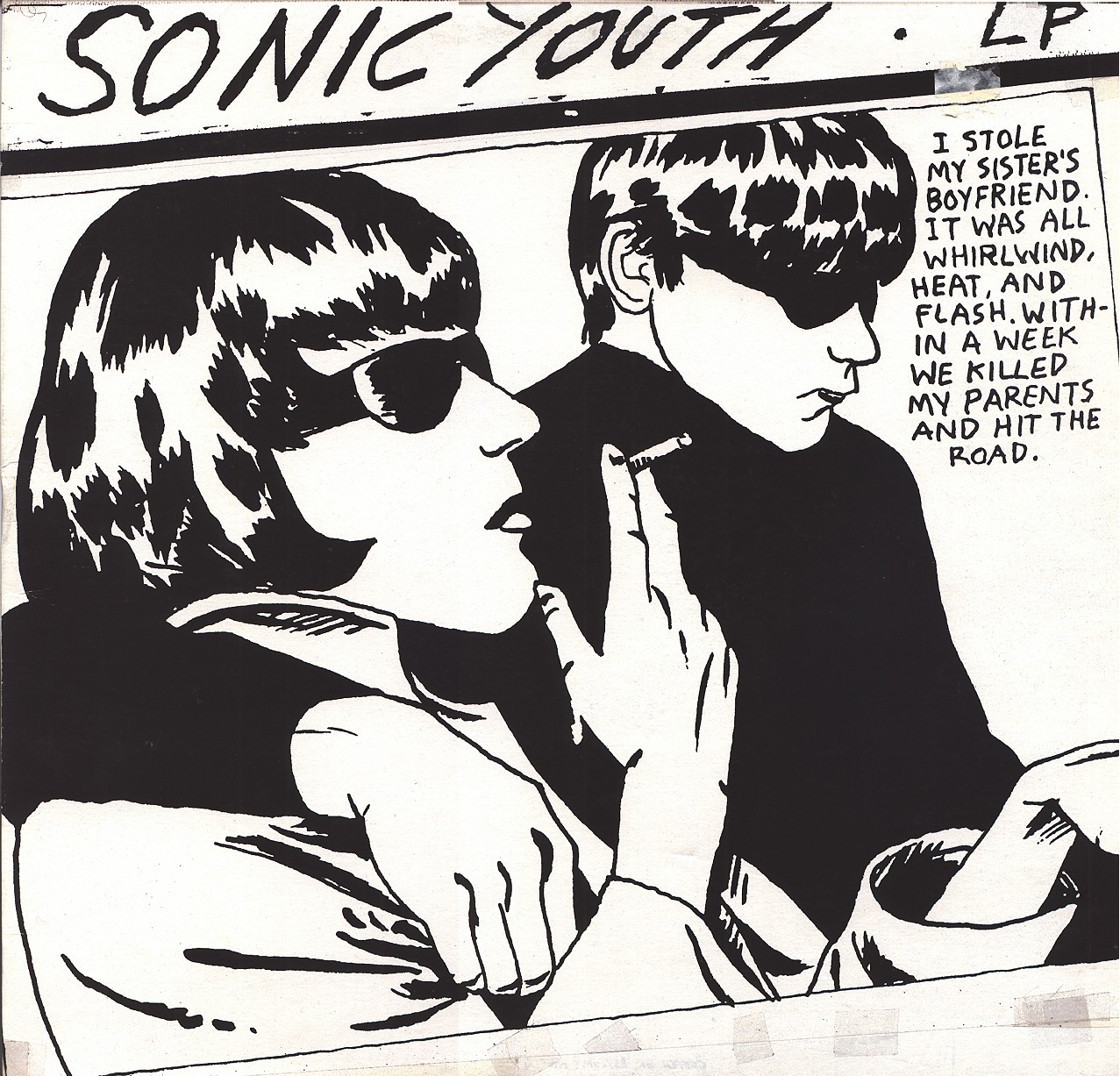 "Goo" has some classics, favorites, and songs that everyone just has to listen to before their time on earth runs out. When I'm thinking of Sonic Youth albums, I just remember this one as the "Grunge" Sonic Youth album, because like it or not, that is what this album is. It might not sound "Grunge" at first listen, but when you listen to it, that is what you get. It is one of the more accessible Sonic Youth albums, but don't let that fool you. Goo Has all of the noise and none of the rot. The lyrics keep me coming back for more and more listens. And by lyrics, I mean some of the best stuff. It still sounds new after 20 years and that is truly awesome.This might not be everyone's favorite but it has the key staples of any Sonic Youth diet.
Dirty Boots
Lovely way to start off this album. I hear this one a lot and I like it and everything, but I have to wonder what Sonic Youth feels like when they play this all of the time. This might be one of the reasons why we don't hear this one live too often. For me, this is one of those songs that you listen to when you are waiting for something and just want to get lost in some noise for a while. There is nothing wrong with that, but I can feel that this might be one of those great songs that I don't listen to not because it isn't good, but because I hear it too much.
Tunic (Song For Karen)
This hast to be one of my favorite Sonic Youth songs ever. Whenever I listen to this song, I always think about how wonderful it is, but at the same time, I remember it is about Karen Carpenter (From the Carpenters) and it almost makes it that much sadder. The guitar that starts off this song and the lyrics alone are like an emotional arrow that pulls you in so that you can listen to the song even more. The lyrical content of this song is one of the reasons why I like it so much. I know its clear when you listen to it, but It is truly like a probe into what Karen was thinking on her last days. I'm glad that this song is 6:22 seconds long, if it was any shorter, then it wouldn't fully capture the emotions that this song has inside. Its only the second song of the album, but it is one of the best songs on Goo.
Marry - Christ
After Tunic, it is nice to hear a upbeat song. I think "Marry - Christ" has that comic relief that is necessary on a album so you won't be too bogged down by a wonderfully sad song. I guess Marry - Christ is building into the next song...
Kool Thing
If I had a dollar for every time this song was played in the 90's I'd be rich. It might just be me, but I can't take this song in heavy listening dosages, but I guess we all get kind of old with what we listen to. Nevertheless, this is one of the Sonic Youth songs that everyone MUST listen to. It gets danceable right after it starts, so It makes for a good party song, or one of those songs that you listen to when you have nothing else to do.
Classic Sonic Youth song right here.
Mote
I seen this live when I seen Sonic Youth live a couple of weeks ago, and I could not for the life of me remember what this song was called. Now that I have this album, I can say that "This is the song that I stopped dancing to because I couldn't remember the name of it!". When you think of Lee songs, you have to think of "Mote" first. It has all of the qualities of a Lee song anyway; its slower, its more poetic, and its 7:37 seconds long.
My Friend Goo
I could just be painfully obvious when I say this, but this song sounds kind of sarcastic. Kim seems to be taking a stab at all of those Women who are involved in rock but don't do anything with it. Kind of like those hipsters who just stand around and say "Yah, That's cool" all the dang time! I knew that this album still held its weight today.
Disappearer
Disappearer is the perfect example of the Sonic Youth cake. It has everything, the noise, the lyrics, and just the right "sound" if you know what I mean. This is kind of a strange standout on Goo because it goes back to Sonic Youths "normal" noise that we are used to hearing. It goes through the "noise, lyric, noise" pattern that all Sonic Youth songs do,and then just fades out nicely into the next song. I guess that is what makes Disappearer stand out on this album.
Mildred Pierce
This is the second shortest song on the album, but it sure doesn't feel like 2:13 (it must be something to do with the guitars...). Then, right when you don't expect it, someone (Thurston?) is screaming Mildred Pierce!!! My question is who is Mildred Pierce and why did she get her own song? Anyway, this is an arty track and I recommend playing it after Disappearer because the mellow to scream ratio might not work out too well...
Cinderella's Big Score
I think that the song structure in Disappear, Mildred Pierce and Cinderella's Big Score is all the same. But who really cares. This is a Kim song, and we all know that Kim songs are awesome. Not too much lyric wise, but more music wise. I don't have too much to say about this, but except enjoy the 5:54 seconds of goodness!
Scooter + Jinx
The shortest song on Goo (1:06). It is just really noise that was extended from Cinderella's Big Score. I don't think that it transfers to the next song though.
Titanium Expose
This is the last song from "Goo" that I'm putting on the Sonic Youth classics list because it is the last one on the album! This might be the song that I seen live and was too awestruck to remember what it sounded like. This one starts off pretty good. Goes into a guitar jam, then it slows down and goes into Thurston singing, then Kim goes into her signature "vocal riff". Then another noise jam, then its over. I've been listening to this song all day, I still can't find the words to describe the awesomeness of this song. I've had this album for a day, and I still can't really figure out why I like it so much. It might just be one of those songs that I love so much and just can't say why I like it. Simple song, lots of noise. I couldn't ask for a better way to end a pretty good album.